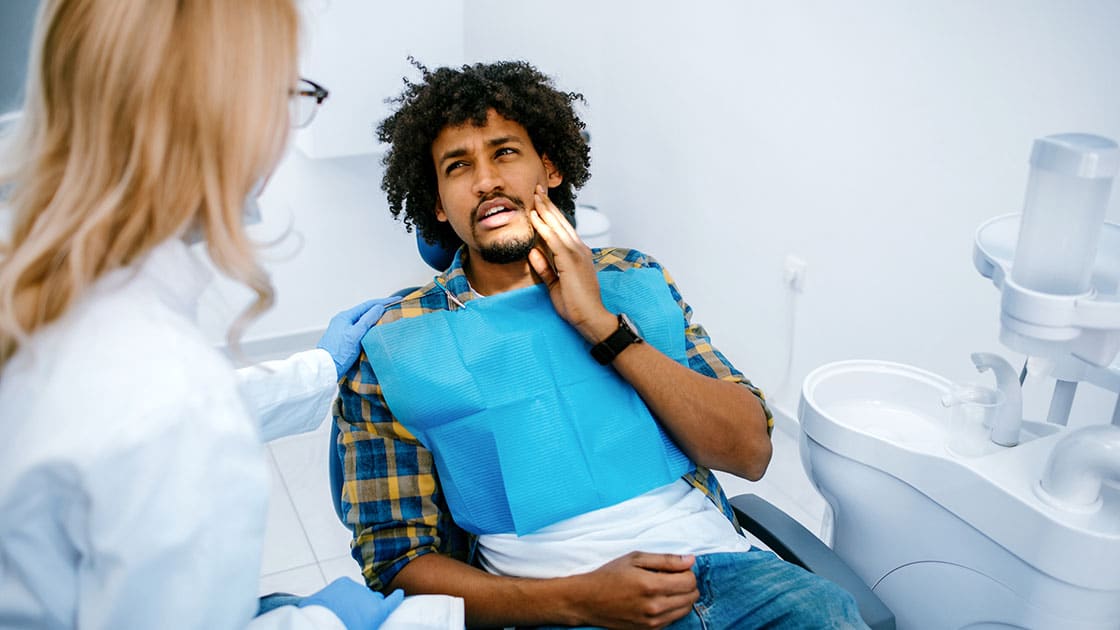 Altitude Dental provides emergency dental services in Mountlake Terrace, WA. Please call our office at 425-775-3446 for a prompt appointment.
What Is Emergency Dentistry?
Emergency dentistry provides immediate care for dental problems that can't wait for a regular appointment. If you are in significant pain, don't wait to call our practice. We can help you decide on your next steps and see you in the office as soon as possible.
Procedures Offered
Dental Trauma
Dental emergencies may happen if you receive an injury like a blow to the face, breaking or dislodging your teeth. Sports injuries and accidents are major causes of dental trauma.
Toothache
You may have a severe toothache that makes it impossible to sleep or relax. Your toothache may result from an abscess, infection, or cyst.
Fillings and Crowns
Emergencies may happen when a filling or crown breaks. If your crown falls off, this is typically not an emergency. Make sure to save the crown so we can cement it back in place as soon as possible.
Root Canals
Teeth that need root canals sometimes cause severe pain. The nerve inside the tooth pulp may be exposed, leading to extreme discomfort. You may need a root canal to treat the infection inside your tooth. Root canals can often save natural teeth from being extracted.
Extractions
Finally, you may need to have a tooth extracted if it receives damage to the point where the dentist can't save it. Extractions relieve pain and make way for stable tooth restoration.
Why Choose Altitude Dentistry?

We provide quality dental care in a modern, relaxing environment. We combine high-tech equipment with expertise in many dental procedures
Dr. Marcus can handle many common emergency procedures and help you feel comfortable. We are ready to help you by making an immediate appointment to see you in the office.
Frequently Asked Questions About Emergency Dentistry
Frequently Asked Questions About Emergency Dentistry
It can be difficult to know whether you are experiencing an emergency or can wait until the next day the office is open during normal hours.
Following are several signs that you may need emergency dental care:
Loose tooth
Broken or cracked tooth
Dislodged or knocked-out tooth
Severe toothache
Dental abscess (may appear as a swollen pimple on the gum)
Swollen jaw
Numb tooth
Bleeding, painful gums
Bad breath or metallic taste with no explanation
What should I do if my tooth falls out?
Find the tooth. Hold it by the crown only. If you touch the root, the tooth may be harder to replant. Rinse the tooth gently with warm water. Place the tooth back in the socket if you can. If this does not work, preserve the tooth in a small cup of saliva, milk, or water and see your dentist as soon as possible. Getting to the dentist within half an hour is ideal, but if more time has passed, don't give up hope on replanting your tooth. If a child's baby tooth is prematurely knocked out, the dentist cannot replant it. It would help if you still took them in for an emergency dental appointment as soon as possible.
What should I do at home if I have a toothache?
While waiting to see the dentist on an emergency basis, rinse your mouth with warm water and remove all food particles stuck between the teeth with dental floss. If you have a swollen face or mouth, apply a cold compress. You can take over-the-counter pain medication. Do not rub the medicine directly on the gums because it can cause damage.
What should I do if I have a broken or chipped tooth?
If your tooth becomes chipped or breaks, save the pieces. Rinse your mouth and the pieces of the tooth with warm water. If you have bleeding, use gauze and pressure to control it. If you cannot control the bleeding, seek emergency medical care before going to the dentist.
Is losing a crown a dental emergency?
It may be an emergency if you have severe pain. If your remaining tooth does not hurt, you can probably wait until the next business day. Call our office to determine the best course of action.
Call Altitude Dental
Waiting until a regularly scheduled dental appointment to treat an acute issue may lead to trouble later on. If you believe you have a dental emergency, please let us help you. Call our office at 425-775-3446, and we will see you as soon as possible.